Have you ever dreamed of escaping the monotony of your regular routine and traveling to places where you can work from beautiful locations?
Well, it has always been my dream to become a digital nomad and work from anywhere in the world, and I have been working hard since 2018 to make my dream a reality.
After waiting for so many years, I finally decided to step out of my comfort zone and pack my bags for Manali, a high-altitude Himalayan resort town in Himachal Pradesh, India.
Upon arrival in Manali, I was surrounded by picturesque mountains and enchanting landscapes, and I immersed myself in the local culture.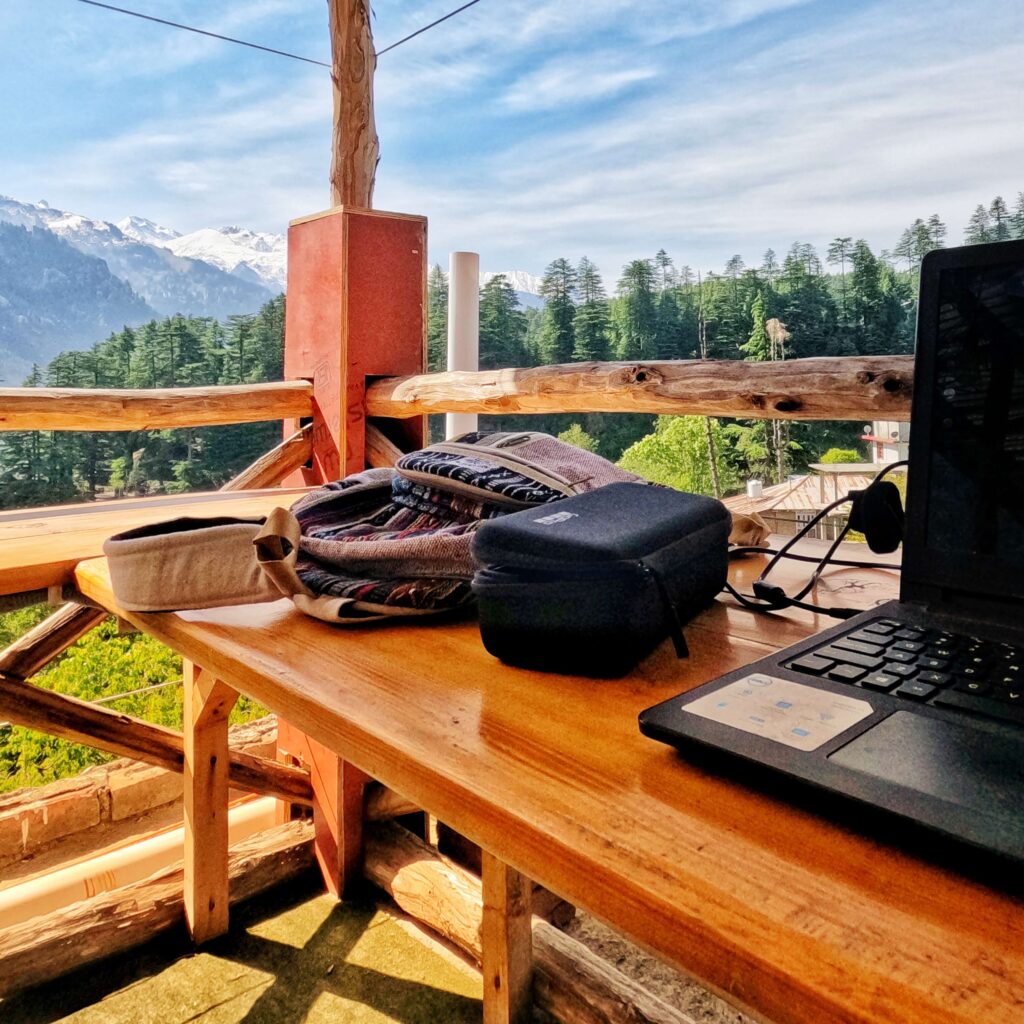 It was a pleasure to spend a month at the Jungle by Sturmfrei hostel not only because of the comfortable accommodations but also because of the amazing people I met there.
Prince, the talented and passionate chef, Siddhant, the friendliest person on the property who volunteered there, Lavish, the Hotel Manager and fellow adventurer with whom I will definitely go on a trek someday, and Khushboo, a kind-hearted and funny individual whose compliment about my singing talent still resonates in my mind and will be in my mind forever.
My stay at this hostel felt like a true home away from home because of its warm and friendly vibes.
I had a great time and my stay was memorable not only because of the hostel people but also because I met other travelers who gave my journey a special touch.
Shankar Bhai, a seasoned traveler, quickly became a friend and mentor. Then there was Arjun, a very interesting friend with whom I discussed ghosts and haunted places in India.
I started to feel sad as my stay at the Jungle by Sturmfrei hostel came to an end. Shankar Bhai, true to his kind nature, dropped me off at the bus station on my last day. It was undoubtedly difficult to say goodbye to the staff, the other travelers, and even Simba, the most adorable yet frightening dog.
The memories of this extraordinary place and its incredible people will forever hold a special place in my heart, and I promise to return as often as possible.
Apart from the vibrant community I discovered at the hostel, the natural splendors surrounding Manali inspired me to explore further.
As a digital nomad, my days were a harmonious blend of work and exploration.
The hotel's excellent wifi, rooftop library, and beautiful rooftop work environment surrounded by mountains allowed me to strike the perfect balance between productivity and indulging in the surrounding beauty.
Situated in old Manali, the hostel granted easy access to numerous charming cafes, where I used to enjoy live music every night during my stay.
I also made friends with Shazy, a lead singer of a band. I used to jam with the band, learn music from the lead singer, and perform live music with the band in cafes for a week.
My favorite activity was hiking. I used to hike in the nearby mountains in Manali whenever I had time.
In addition to my exploration of Manali itself, I also traveled further to witness other amazing places in Himachal Pradesh. One such place was the Atal Tunnel, an engineering marvel, and the world's longest highway tunnel.
The thrill of ziplining in Sissu, and seeing the cascading waters of Jogini Waterfall, Rupi-Raila Waterfall, Jibhi Waterfall, Barshangarh Waterfall, Chhoie Waterfall, and snow in Deepak Tal Lake was a great experience. Visiting the Shangarh Meadow and the Twin Towers of Raila (Dhaliara Kothi) was also a wonderful experience.
Even though I saw a lot of things in Himachal Pradesh, I still wasn't able to explore everything, so I will come back again to see Spiti Valley, to try paragliding in Bir and I'd like to go on different treks including the Bhrigu Lake Trek, Hampta Pass Trek, and Kheerganga Trek.
My journey as a digital nomad in Manali demonstrates the endless possibilities that arise when we embrace our passions and travel to new places.
The friendships I made, the cultural experience I had, and the breathtaking landscapes I saw. will forever remain etched in my memory.
With its charm, and allure, Manali has become my second home, and I can't wait until I can once again go on another adventure to explore its majestic mountains.
With its crisp mountain air and panoramic views, Manali awakened a sense of wanderlust within me.
The rugged trails and lush valleys became my playground, in which I have been able to escape the constraints of my traditional work environment.
Having the ability to step outside my door and instantly be surrounded by nature's splendor was an indescribable feeling of freedom that I had never experienced before.
There is no doubt that I will return to Manali again, but I also want to explore other places. My next trip will be to Meghalaya. Next, I'll move to Goa, next year I'll visit Nepal, and in the future, I'd like to relocate to Bali, Indonesia.
The next thing I'll do is the Basic Mountaineering Course (BMC) at the National Institute of Mountaineering and Adventure Sports (NIMAS), Dirang, Arunachal Pradesh. Following this course, I will visit Nepal and trek to Everest Base Camp.
As of now, that's my plan. Let's hope for the best. 🤞
I look forward to seeing you guys after another adventure. For those of you who wish to join me on my journey, feel free to contact me via email or DM me @InuEtc on Instagram.
Thanks for reading this article. 💚
If you loved what you read, would you be able to buy me a cup of coffee? It's okay if you can't right now.
If you have any questions or if you wanna work with me, feel free to contact me. I'm always available to help young hustlers like you @InuEtc on Instagram.
Keep hustling!